Posted by Everyday Healy on January 26, 2010
Sunday, we went to Queensbay Mall. Daddy, mummy and granny were busy shopping for CNY clothes. Where as I got my favorite Auntie Anne's almond pretzel. Mmm…… Yum! Yum! I enjoyed all the CNY decorations and the 24 seasons drum show. So cool! Oh! There is a nice bridge too. Let's cross the bridge.
Mummy:"Do you want to take a picture on the bridge, baby?"
Liz:"Sure." *Nod nod*
Mummy:" How about some cute post?"
Here you go!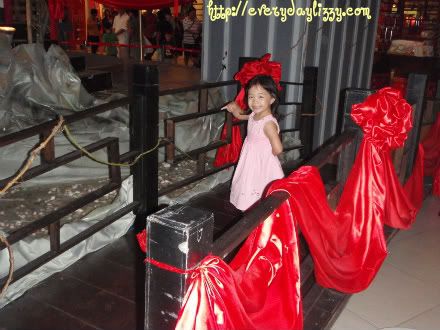 Wow! Excellent! 😛
Liz:"Mummy, I want to do the Gong Xi Gong Xi decorations at home, ok? It's so nice."
Mummy:"Sure, baby."
Liz:"I will help you, ok?" (That's what she always said recently)
Mummy:"Ok. Thank you, Elizabeth."