Posted by Everyday Healy on February 5, 2010
My sore toe is healing quite well. Mummy said I can still go to right brain class later. Hooray! But, I don't want to go back to school on Monday.

I want to have more CNY shopping like yesterday. It's such fun! Do you think tonight "Gu gu" is going to buy new clothes for me again from the night market? I love that Chinese purple dress so much!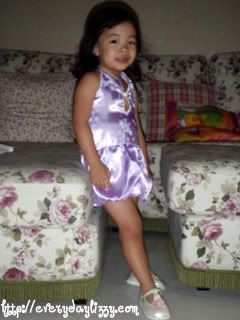 Yeah… This is my first purple dress which is a gift from "Gugu" and Irene "Jie jie" since last Saturday morning. See! I think it looks nice when I match it with my party shoes. Ops… where is my lipstick?
Mummy:"Mummy buy a fake one for you to play, ok?"
Liz:"No! I want the real lipstick." 😯
LOL! So vain!
By the way, I think this dress is too small for you, baby. Don't you feel tight? And, it's very short. But, mummy will always remember this chubby but sexy look. Hahahahahaha……