Posted by Everyday Healy on April 25, 2010
Initially, mummy soaked 1 teaspoon of it on a small piece of bread, then topped with a thick coat of berries jam on it. But, I still said :"No!". I guess mummy was forced to say something.
Mummy:"It's good for your health. It will keep you away from coughing."
Liz:"No. I don't want." (Absolutely! You just don't care weather milk is the best protein powders. You drink lots of milk because it taste great!

 )
Mummy:"Alright. So, no chocolates, sweets or lollipops from now on. It's your choice!" *Grin* (Ha! So even if you don't take this healthy oil, at least mummy has good reason to stop you from taking all these junks. 😉 )
Mummy just leave me no choice but to swallowed the Cod Liver Oil bread in no time. Mummy did it!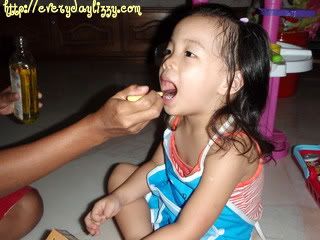 Then, I find that it does not taste as bad either. Thus, I have no problem drinking 2 teaspoons of this Cod Liver Oil everyday now. And, I smiled every time mummy said:" Good girl!" after I drink it.

By the way, Seven Seas is really good. I have cough for more than a month. And still coughing after I have took Arius for about 5 days plus a few days of Singular and Fluimucil. Then, I stopped coughing the next day after taking 2 teaspoons of Cod Liver Oil at night.Fantastic! I think we've found the magic oil. Hehe……