Posted by Everyday Healy on April 23, 2010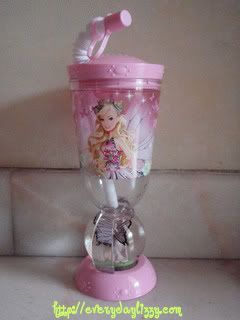 Yeah… I received a nice Barbie doll cup yesterday. It's a present from "Uncle Jason". I love it! I wanted to bring it to school and show my friends. But mum said no! As it's a cup. Not water bottle.
So… I drink Ribena with this cup yesterday. Mummy said my tummy is getting bigger. So, no Milo. (Yeah… As nuphedragen is only for adult. Children can only depend on balanced diet to avoid obesity, get it? LOL!)
But, I want to drink Milo. I wish I can drink Milo and milk with this beautiful cup. I insisted this morning.
May be It's a good way to let me say bye bye to my milk bottle. Hehe……