Posted by Everyday Healy on July 13, 2010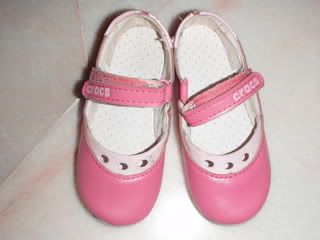 Look at these 2 pairs of shoes. Can you guess which is the old one? Once again, mummy bought me new shoes that is the same model with the old one.
I actually have 3 pairs of Nike Sports shoes with the same model. 2 of them are different size but they look exactly the same. Another one has the same size with 1 of the 2 pairs. But, it has different colour. How about that?
Now, mummy bought me a new pair of brown Crocs which is exactly the same as the pink Crocs that I already wore for almost a year. Same model but different colour and one size bigger. Somehow, I still love it as it's comfortable and nice. 😛
I am glad you love it, baby. Mummy did try to look for other designs. It's always such as nice, soft and comfortable shoes are very hard to get. But since you seems agree with mummy, I guess may be we can just buy 6 pairs altogether of a particular model from the wholesale next time with the requirement of different size. May be that will save us a lot of money. Hahahahaha……