Posted by Everyday Healy on January 25, 2008
Chinese New Year is around the corner. So, it's time to "show off" Lizzy's New clothes for CNY now! In fact, I have bought many new clothes for her. But, the old ones in the house told me that most important children should wear new pajamas for the might before new year and the night we pray to "Tian Gong".
So, I quickly spare a few pieces of new pajamas for her.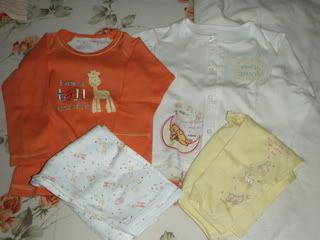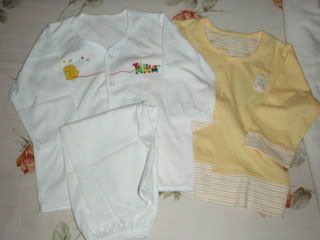 Not because of the old believe. But, it's a great excuse for me to shop for my little princess. 😆 I really loves to shop for her clothes. LOL!
Anyway, as you can see mummy likes yellow and orange so much! I find it looks more cheerful if kids put on clothings with these colors. Of course, it's more suitable for CNY too. "Wong" (prosperity) mah! hehe…
And, baby always wear decent pajamas cause kids are meant to be decent. So girl, if you prefer bustiers, you can get it for yourself when you earn your money. Not from mummy! 😛