Posted by Everyday Healy on February 27, 2011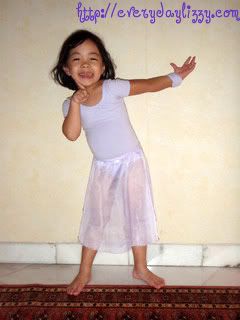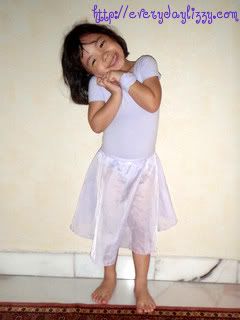 Lovely costume that makes you look exactly like a little angel!

Look at all these pictures above. I am sure you can see how much you have enjoyed your Bebe ballet lessons since November 2010. You have trial quite a number of other dancing class. you said Hip Hop was too difficult for now. And, you don't want to join ballroom dancing either.
I think we have to thank to Miss Teoh, your ballet teacher. As mum had to admit that she is such an interesting teacher who knows exactly how to attract little ones attention by loud and clear voice and endless highly imaginative fairy tales or animal stories. Thus, Bebe Ballet is your favourite! 😛
Dancing is your happiness. Mum is very sure about that. In fact, you get to wake up earlier every Saturday morning without complain and always came out from the class with wonderful smile and endless stories to tell. That's awesome!
Besides, mum realized you get smaller tummy, taller and nicer thighs and arms' shape without taking diet pills. It all just happened rapidly after you start joining Bebe Ballet. Thus, Bebe Ballet is absolutely good for you.
Hope your interest for it will persist.