Posted by Everyday Healy on April 4, 2011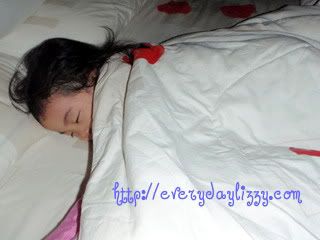 Won't you think you still look like a baby in this picture? So lovely!
Since you are still having your sweet dream, why not mummy continues writing. Hehe……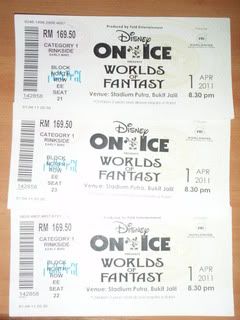 Well, we actually visited KL specially for Disney on Ice!
Initially, mummy thought Tinker Bell will be your favourite. But surprisingly, you cheered most for The Lion King.

As a matter of fact, Mickey is still your favourite. As you surely shout out loud for Mickey whenever it appeared in the ring. You even requested to get down and meet Mickey up close and personal at the end of the show. So daddy quickly carry you down. Unfortunately, Mickey had stepped back to the back stage once we reached the front the stage.  

Liz:"Why Mickey never wait for me?" (Oh No… You look so disappointed!)  *Sob Sob*
By the way, you were sitting on daddy's lab from the beginning till the end of the show while mummy was busy video taping and snapping pictures by the side. See… Daddy spent half a thousand for the tickets, few hundreds for a nice hotel stay and drive all the way down to KL just to please his little princess.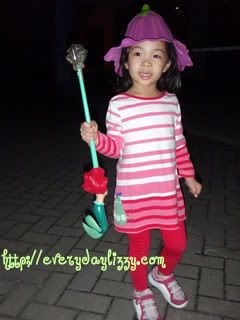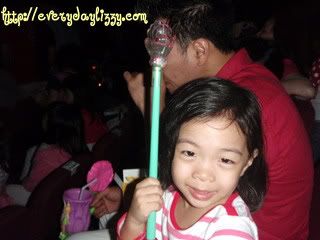 What daddy was holding in his hand… That's my tinker bell's mug. Nice aye? 😉
Besides, daddy also spent quite a lot for your new Tinker Bell's Mug, Ariel's magic wand and The flower bloom hat before we enter the show. So please at least buy a personalized gift like those Personal Creations men's gifts for him for every father's day when you earn your own money, ok? Hahahaha…………
Lastly, it was such a wonderful moment for all 3 of us. Mummy and daddy love the Full Tinker Bell's show. It was so colourful! Thus, it worth all the spending. And I know what's next. For sure it will be Disneyland for you to meet all your favourite cartoon characters. 😉