Posted by Everyday Healy on April 10, 2011
Mum feels so sorry that I blog less. Sorry, honey! I will try to catch up again. But I just won't miss this.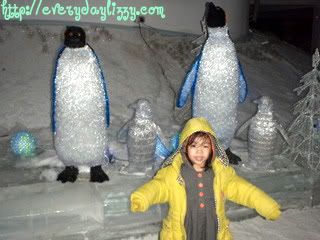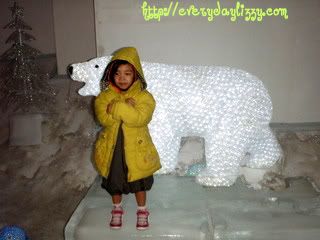 You are so cute, so sweet and extremely lovely! I can never forget how much you love snowing and this icy cold environment. You were jumping for joy when you first stepped in. You also slide twice on the ice slide while wearing dress with bare legs. Yoo…Hoo!
Again, mum was so sorry that I let you wear dress in such a cold environment. You were shivering!
Mum:"Let's go out, Liz. You are shivering badly."
Liz:"No, mum! I am ok. I don't want to go. This is so cool! I am ok."
Mum and dad quickly ran out to the entrance to buy more accessories for you to cover your hands and neck. Still, it's too cold for you without pants. So we were forced to leave earlier. So sorry!
I know you were upset. You absolutely wish to stay longer. I promised we will visit places during winter time later on. How about Korea? That's the nearest that I can thought of. But I think dad can hardly say yes. He might prefer Switzerland I guess.