Posted by Everyday Healy on January 25, 2008
Elizabeth, do you know that you are a typical soft toys princess since 8 to 9 months old? Make sure you don't fall in love with guys just because of a few soft toys, ok? LOL!  I think it's a bit too early to discuss this topic with you. Silly mummy! 😛
Actually there was funny scene that really amuse mummy and daddy in Wednesday. It's a public holiday because of "Thaipusum". So, daddy and mummy bring you out to "Kai Kai".  Mummy certainly knows you like soft toys. Thus, we walk into a soft toys shop together.
I guess there is something mummy just realized at that time. Elizabeth has grown up and become smarter. You are so excited to see all the soft toys. You want to grab them all. So mummy and daddy quickly take you out from the shop. But, you have struggled hard and insisted to go back into it. In and out trice.
Finally, mummy gave in. I let you choose among 2 soft toys. One square and one round. You quickly grab the round cuttie and run out from the shop immediately. 😯 OMG! I can't believe my eyes. That's embarrassing. Baby, do you know that this act can be considered steeling? LOL!
At last, mummy quickly grab you and take you to the counter. End up, Daddy paid for another soft toys again.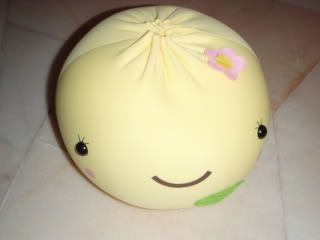 Anyway, mummy and daddy have fun though. You are so cute! Unbelievable! 😛
I wondered how many soft toys will you have until you are 5?