Posted by Everyday Healy on June 11, 2008
Last Sunday, we were enjoying our lunch at E & O Hotel. Mummy and daddy didn't really enjoy the food there. Baby likes the potato chips though. 😆
Elizabeth enjoys wide spacing and windy environment especially with water around, be it fountain, sea or pool. So, She did enjoyed herself at E & O. Running here and there non stop! Looks like beautiful and comfortable environment is also very important for toddlers.
Anyway, mummy and daddy had a great time too. At least, mummy managed to take photos together with my darling girl. So happy! 😛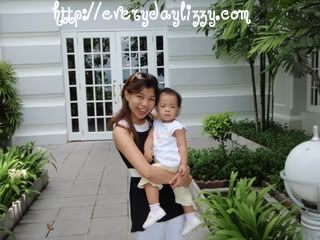 Baby, Smile please! 😛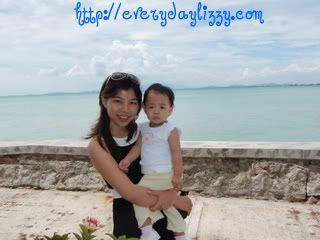 Still too bright, mummy!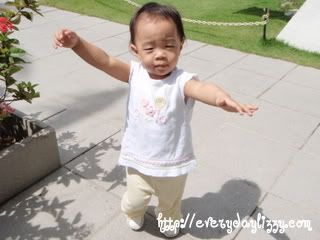 Anybody switch off this terrible bright light please? hahaha…
Frankly, mummy and daddy seldom take pictures together with our little princess. Mummy is always busy snapping baby alone. And, daddy don't even bother to touch the camera. Again, he said: " That's mummy's job."