Posted by Everyday Healy on July 31, 2009
When she first woke up and getting ready to school……
Liz:" Er… We go shopping, k?"
Mummy:" You mean after school?"
Liz nod nod.
Mummy:" Alright. What you want to buy?"
Silent.
After we went into the car…
Liz:" Go shopping later, k?"
Mummy:" Sure. But what you want to buy?"
She took a few minutes thinking and said:" Book."
Surprise! Surprise! Since when this little cheeky become a real bookworm? May be. But, more of a little shopping queen. Hahahaha……
Anyway, she also starts scathing now. Draw then color. Sometimes, can see the shape of the things she intended to draw. Mummy and daddy is so proud to see that. However, still lack of patient in completing the coloring. Never mind. Take your time. Mummy has the patient to wait. I know soon you will show me you can do it like you always did. 😛
Also, she got a chance to work in the kitchen now. Thanks to the new "kakak" who definitely can cook better than mummy. Ha!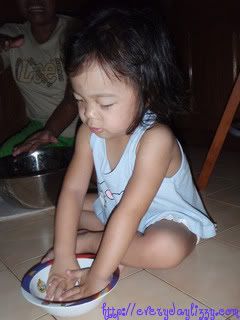 Mm! Need some strength.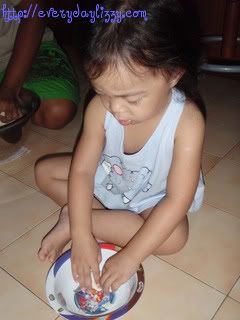 Wow! So serious!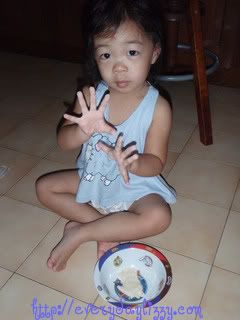 Yike, Sticky! But, fun! 😛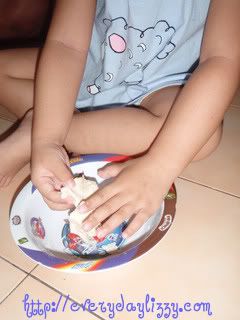 Mm! I think it's ready. I want to shape it nicely piece by piece like "kakak" now. 😉
Hooray! I can make curry puff now! Alright! Just learn how to cook, k? Don't eat too much. You might look cute as you become chubby at this age. Unfortunately, if you carry such big appetite until your adulthood, you will certainly need weight loss pills. LOL!