Posted by Everyday Healy on May 26, 2008
Sunday afternoon, we were at Gurney Plaza. We took our lunch at the BBQ Chicken at Gurney Place. Gurney Place is always Elizabeth's favorite. As there is a wide walkway for her to run about. 😛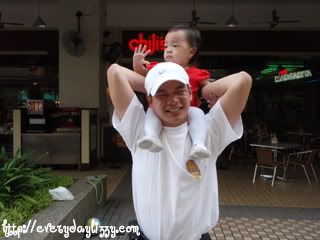 It seems this little chicky enjoyed sitting high up on daddy's shoulder.


Wanna dance with me?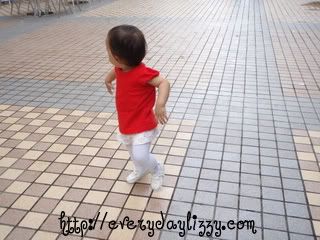 Ladies and gentlemen, my Monkey dance! 😉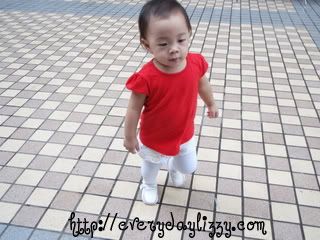 Now, I am pointing my toes. Dancing gracefully. No more monkey jumping around! hahaha……
As usual, Elizabeth is such a great dancer. She also never stop running around once mummy put her on the floor. Luckily there was Uncle Bill besides daddy and mummy. We all took turn to watch her.  "Kakak" was not with us that day.
In fact, daddy suggested we better cooked "Maggie Mee" and eat at home instead of eating out together with Elizabeth without the maid. Daddy is absolutely right! As little Elizabeth has very bad table manner.

She took the spoon and played with salad. She also took the straw in and out from daddy's drink. Water spilled everywhere. Luckily it was plain water. Smart daddy! It was right to take mummy's lemon tea away from this naughty little girl. STOP! 😯
hahaha……