Posted by Everyday Healy on October 5, 2010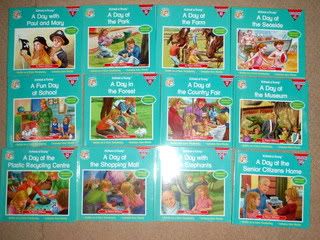 It's 12 of them in a set for only RM 70+ which mum bought from one of the booth at the International Story Telling event. They are not Peter and Jane but Paul and Mary. They are not my favourite too. But, I still read them.
As it's good to learn some new facts from these books. I have learn about recycling plastic, what's in the museum, camping and who is senior citizen from them.  

I especially like to read about camping and things in the museum. Somehow, I still prefer a book with many short stories in it. Best still if it's fairy tales.  😉